You know, it is often said that your entire personality can be detected based upon your looks, especially your shoes. So a person wearing flip-flops to a formal gathering would be termed as careless and ignorant while the same thing to a casual outing would seem free-minded and enjoyable.
So in this really judgmental world, I hope you got your shoes all done right. And if you've not, here is a guide to help you do so!
Sneakers
You see, the best way to finish your daily look is with great Sneakers. A pair of plain black and plain white Sneakers is a must have for every individual. You can pair these up with literally any of your casual outfits. These are the perfect wear for a classroom environment or for an informal work setting.
There are different types available for men as well as women. So choose yours accordingly and get going!
Sports shoes
Yes of course. Mandatory inclusion when we talk about types of shoes. So as you all know already, sports shoes are for athletes and sportspersons. Basically the major quality for these shoes is their grip. So you can use these while daily workouts, trekking and mountaineering activities or while you are playing a sport of course. However, nowadays as the trends go you can also pair these up with your regular casual wear provided the shoes actually look somewhat casual. Again, you can use these with or without socks. After all, it's all about the comfort!
Formal Shoes for Men and Women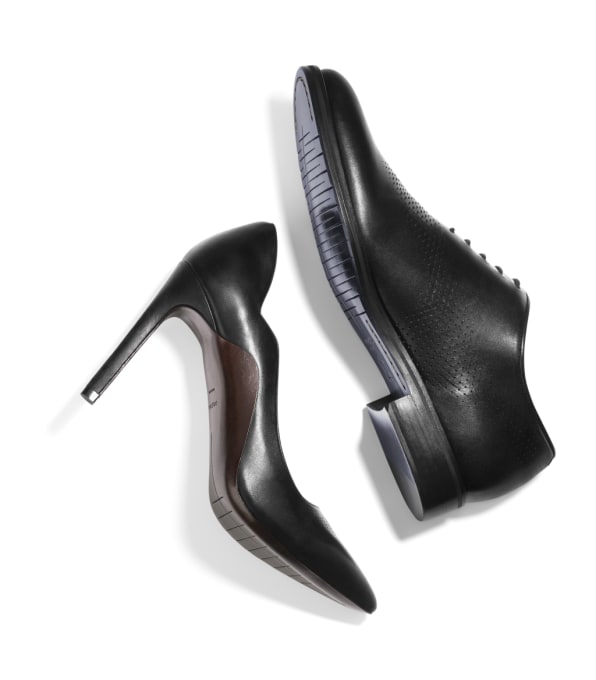 So well, of course you have a different category for formals. All the other types of shoes might even be neglected but you can absolutely not wear any other shoes for formal events than the only, formal shoes.
So basically for strict formal wear, it is mandatory that your toes remain enclosed. So for men as well as women it is really important that they are dressed in perfect formals for all the formal events. Even for a regular office wear, formal shoes would really improve your look and grooming.
For women who are not comfortable in heels, ballet shoes or any other such flats with front enclosed, will also work.
Party-wear Shoes for Men and Women
The easiest pick of all. You get plenty of heels or stilettos for women. But for men, it is really hard to find and choose. Going for men here, you want something which will not be too dressy and will also get you in that life-of-the-party mood. You, dear, also have some funky party wear options to yourself like bright neon colored Sneakers or glow in the dark shoes. You might also find shoes with actual LED lights to them, excellent for a disco. For a little less glamorous look you can always go with denim shoes or other classy options like that.
Talking for women, I don't even have to say, do I? Stilettos, block heels, wedges, any of the heel options are always up for the party. You can also add shimmer to your outfit if you want something extraaaa. However, for girls who are uncomfortable with heels can also use flats with a little glaze or shimmer.
Apart from these, there are many other types of shoes which are used for specific purposes. There are various dance style specific shoes but the above mentioned are the only ones which you really need to know in order to be presentable in your daily lives.
The world is your ramp. Walk it in style!